Welcome
The Basics of Budgeting
Learn how to start one.
Being an adult means bills, taxes, and buying the things you need to survive… it all costs money, and to help keep track of that, you need to budget. But budgeting isn't just for adults. It can help you out, too. Keep reading to learn what you need to know about budgeting and how to set one up.
First things first, what is a budget? It's a record of how much money you have coming in (earning) and an estimate of how much you have going out (spending).
How to start a budget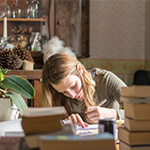 It depends on what works best for you. Some people track how much they are spending and where, and then build off that. Others set a savings goal and set their budget based on that goal. Others account for how much money they are making and go from there.
Right now, how much you make and how much you spend are relatively small amounts. So a savings goal is a good place to start right now. Decide how much you want to save each month and then work on how to make enough money to reach that goal while still having some spending money.
What do you do when you meet your goal?
Do a little dance. When you reach the goals you set with your budget, reward yourself. But set a budget for that reward. There is actually science behind rewarding yourself: it helps reinforce good habits and encourages you to keep trying.
Besides rewarding yourself, you should also set new goals. One secret to budgeting is that you keep doing it. When you're older, you'll have a budget for your bills, a budget for a vacation, another for a new car, and even another budget for a home. That might all seem very far off right now, but a car when you turn 16 is close. College is pretty close too, and that is going to take a lot of work to get all the money in place and organized.
Why it's important to start now
Learning to budget now will make it easier when things get more complicated. You're just beginning to make your own financial choices, and building the skills to make the smartest choices is important. Those skills will have a lasting impact on your life.
Who to ask?
Your parents are a good place to start if you have questions about starting your budget. They can help you find sources online that will have more information and templates or apps that will help you. If you don't already have a savings account, you can start one. Your credit union can help.
Now that you know a few basics of budgeting, good luck. It might seem awkward at first, but if you keep at it, you'll find it gets easier. Good luck, and have fun saving!